Portugal Golden Visa Program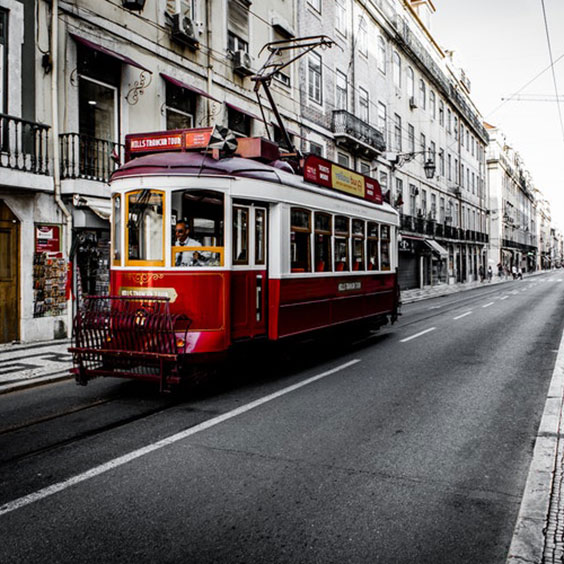 Invest in Portugal, the fastest developing market in Europe! Whether you want to get a residence permit or make a profitable real estate investment, Paladin will guide you though every step of this adventure!
Please Fill out the form to get more information about Portuguese Citizenship, Portugal Golden Visa, Real Estate Investment and Residence Permit.
As a major trade and tourism country in Southwest Europe, Portugal sees its share of travelers seeking tranquility or business. Whether jet-skiing off the waters of the Algarve or a relaxing spa in the hot spring of Monchique, the country is desirable for a lot of foreign nationals. 
Getting the proper residence permit in the country can be exhausting. Yet, the country offers a shortcut through the Portugal Golden visa, a program that grants residency who invest in the country.
Throughout this guide, you'll get to know everything about the Portugal Golden Visa 2022, its requirements, and how you can apply for it.
What Is a Portuguese Golden Visa?
First launched in 2012, the Portugal Golden visa is an investment initiative designed for non-EU citizens. It came about to mitigate the effects of the 2008 economic crisis. Over the years, the government has acknowledged the program's success, as it has raised more than €6 billion since its inception.
The Portugal Golden Visa program grants Portuguese residency to investors who make a qualifying investment in the country. The scheme offers different investment methods but the most popular ones include the following: 
Real estate investments, starting from €280,000.

€500,000 investment in a qualifying Portugal Golden Visa investment fund
Portugal Golden Visa Benefits
Portuguese Golden Visa certainly lives up to its name. In addition to enjoying a country with magnificent landscapes and beautiful beaches, you can avail yourself of the following Portugal Golden Visa benefits:
Access to Portugal's education and healthcare programs 

An easy real estate investment that starts as low as €280,000

You'll only need to stay in the country for seven days to maintain your status

Visa-free travel to 183 nations and free movement across the 26 countries in the Schengen area.

Sound investment and entrepreneurial opportunities in a country with potential for high return

A swift citizenship approval in five years
Who Is Eligible for a Golden Visa in Portugal?
Only individuals fulfilling all of the following criteria are eligible for a Golden Visa in Portugal:
A non-EU/EEA/Swiss national

Minimum of 18 years of age

A clean criminal record, both from the home country and Portugal
You can extend your Portugal Golden Visa application to family members. These members include the following:
Your spouse

Children under the age of 18

Dependent children under the age of 26 who are full-time students and not married

Your parents (on the condition that they're over the age of 65)
Portugal Golden Visa Requirements: Documents
You need to prepare the following documents for your Portugal Golden Visa application:
Copy of a passport or other legal travel document

Documents to prove that you've made the qualifying investment, such as a

deed or promissory sale agreement for real estate with proof of deposit, or

confirmation of fund subscription

Declaration from a Portuguese financial institution that confirms the money transfer

Proof of health coverage. If you're already living in Portugal, you can get it from the National Health System. If you're living outside Portugal, you need to show evidence from an internationally covered insurance company

Criminal record from your country of residence, issued within three months of the form submission

A filled form that authorizes SEF (Portuguese Immigration and Border Service) to access criminal records in Portugal

A sworn declaration that shows your compliance with the minimum investment requirements and shall fulfill them within the necessary period of five years

Documents proving that you have good standing with the Portuguese Tax & Customs Authority and the Social Security system

Receipt of the ARI application payment
Documents issued by a non-Portuguese entity require legalization. Furthermore, they should all be in Portuguese and notarized by a public notary.
Investment Options for Portugal Golden Visa Program
Portugal Golden Visa stands out with its various investment methods. Depending on your needs and criteria, you can go for any of the investment options to qualify for a Golden visa mentioned below:
Real Estate Acquisition
The most popular investment option for a Golden visa is acquiring real estate in Portugal. The minimum investment amount is €280,000. Here are the options:
Residential Real Estate


With this option, you can choose to invest €500,000 in residential real estate in qualifying areas in Portugal. If the property is part of an urban rehabilitation project, a €350,000 investment is also attainable. If this residential property is located in a designated "low density" area, you may also qualify for a 20 percent reduction in the minimum investment requirement.
Lisbon, Porto, and the majority of the Algarve region are excluded from the residential real estate investment option. However, there are still some undiscovered qualifying spots that are close to these locations.
Commercial Real Estate 
Commercial property can be purchased anywhere in Portugal if it is valued at least €500,000.
If the property is part of an urban rehabilitation project, a €350,000 investment is also acceptable. If the commercial property is located in a designated "low density" region, you may be eligible for a 20 percent reduction in the minimum investment requirement.
Commercial and Residential Real Estate
A Portugal Golden Visa can be obtained by investing in commercial or residential real estate in the Madeira Islands or the Azores. The required investment amount is €500,000.
The minimum investment amount reduces to €350,000 if the property is part of an urban rehabilitation project.
Because these islands are not included in Portugal's low-density zones, there is no discount.
As long as the minimum amount persists in total, the transaction may include purchasing multiple properties. Conversely, if multiple applicants purchase one property for an immense purchase amount, they may also combine their investments.
This means that if two friends purchase real estate worth €1 million, they may apply for the Portugal Golden Visa, as they each spend €500,000 in total.
Capital Transfer
You can directly make a capital transfer of €1.5 million to Portugal to qualify for a Golden Visa. The investment option requires the least paperwork, although you may have to pay hefty fees should you move large sums all at once.
Fund Subscription
This option entails a fund subscription in Portugal with a minimum of €500,000 over a five-year tenure. The Portuguese economy is on a solid path to recovery, which you can contribute towards while expecting generous returns.
Scientific Research
If you wish, you can choose to invest a minimum of €500,000 in developing scientific research in Portugal. 
Job Creation/Company Investment
To qualify for a Portugal Golden Visa, you can register a corporation in your name that creates at least 10 jobs in Portugal. For low-density areas, that number is eight.
If building and running a company sounds too complex, you can instead invest €500,000 into an established business registered in Portugal. The company should create at least five new jobs within the next three years.
Donation
It's the most inexpensive method to obtain your Golden visa in Portugal. The government is serious about retaining its historic sites, some of which date back thousands of years. A Golden visa applicant can invest a minimum of €250,000 in preserving any national heritage site to qualify for their investment requirements. 
Getting Loans for Golden Visa in Portugal
A typical question is whether you can finance your Golden Visa investment in Portugal with a loan or a mortgage. Portugal anticipates you bringing in the minimum amount required from outside the country. As a result, a loan for a minimal amount cannot be obtained from a Portuguese financial institution.
You can, however, borrow the money from a non-Portuguese financial institution and bring it into Portugal. If your investment exceeds the minimum, there is nothing preventing you from borrowing the difference from a Portuguese bank.
How To Get a Golden Visa for Portugal
Even with all the changes, applying for a Portugal Golden visa remains pretty straightforward. You can complete the majority of the work online or engage a lawyer to submit your application on your behalf. Although, you still have to attend the SEF appointment in person.
Decide on Where You Want To Invest
Before you spend a single euro, it's good to decide where it'll go. You can research all the perks of each investment type online, but nothing is as good as experiencing Portugal for yourself.
Gather the Necessary Documents
Once you make up your mind about the investment, the next step is to prepare all the necessary documents. It's possible, albeit quite hard, to collect and translate them independently. Instead, you are much better off hiring a legal firm to handle most of the legwork.
Open a Bank Account
Portugal requires all transactions for investments to take place through their country's bank account. You'll need to open a bank account in the country. It's relatively simple and should not require more than a few hours.
You can get a NIF number for tax identification from any finance office in Portugal. You can then open an account with your desired financial institution. If you lack the time, you can grant your lawyer a power of attorney to do it for you.
Finalize the Investment
As you now have most of the paperwork ready, it's time to make the investment. Depending on your investment method, you'll need to transfer the payment.
Submit an Online Application
This is the step when you'll need to submit your application. Although you can do it on your own, delegating it to your lawyer will help you to have a more smooth process.
The online application process involves submitting the required documents in PDF format. Ensure that you use a document scanner instead of taking pictures and keep the file sizes below 4 MB.
Schedule a SEF Appointment
After you submit your online application, SEF will review it and will provide you with some available times for you and your dependents. You and your dependents will physically appear at the respective SEF office on the scheduled appointment date to submit your fingerprints and make your application official.
Get Your Golden Visa
And that's all it takes! You can collect your Portugal Golden visa within the next few months. You can visit any SEF appointment branch to receive your Golden visa or they can be collected by our legal representatives and sent to you.
Become a Portuguese Citizen
You can apply for Portugal permanent residency or citizenship after renewing your initial Golden Visa card twice in the five-year period. You will no longer be required to keep your investment in Portugal once you have obtained permanent residency or citizenship.
Portugal Golden Visa Scheme Timeline
The timeline for your Portugal Golden Visa program is relatively simple to follow compared to other nations' residency by investment programs.
Year One and Year Two
The Portuguese government issues you the Golden visa upon making the investment, submitting fees, and the relevant documents. Your Golden Visa status becomes valid for the next two years.  You'll be required to spend a total of 14 days in Portugal within these two years.
Once this period is over, you'll renew your residence permit. Within 30-90 days before your card's expiration date, you'll schedule another SEF visit to renew your cards. The renewal process requires the documents to be resubmitted.
Year Three, Four, and Five
It's time to renew your residency permit which will remain valid for three consecutive years. You must stay in the country for a period of 21 days in this three-year period.
Year Five
You can request permanent residency or citizenship at the end of year five. Alternatively, you can renew your Golden visa residence permit every three years.
Portugal Golden Visa Cost and Fees
In addition to the minimum investment you make and the necessary fees related to the transaction of the investment, you'll be faced with legal and government application fees. See below for the detailed list of all the costs.
Government Fees
|   | Frequency | Amount |
| --- | --- | --- |
| Processing Fee | At the beginning & at each renewal | €533 per applicant (+ €83 /dependent) |
| Initial Application Fee | At the beginning | €5,325 per person |
| Renewal Application Fee | At each renewal | €2,663 per person |
Fees for Legal Services
The legal expenses are determined by the law firm with which you want to work with. Because the investment in a Portugal Golden Visa is so significant, it's preferable to entrust your due diligence, as well as the application and renewal process, to an experienced law firm. The legal bills can add up quickly, so it's advisable not to take any chances by hiring a newcomer to the industry.
The fees for a family of four might range from €10,000 to €30,000 over the course of a five-year period. The good news is that you won't have to pay it all at once; instead, you'll pay it in payments over the course of five years.
Portugal Golden Visa: Tax Implications
The terms "tax residence" and "legal residency" don't mean the same things. Getting a Golden Visa in Portugal doesn't automatically make you a tax resident. You will, however, pay taxes on your investment in Portugal even if you are simply a legal resident, as long as the investment generates income.
If you elect to become a tax resident in Portugal, you must spend more than 183 days in the country throughout the fiscal year. The Non-Habitual Resident (NHR) tax program offers several tempting advantages to becoming a tax resident in Portugal.
Non-Habitual Resident (NHR) Tax Program
Portugal invites professionals and investors of high cultural and economic value to the country through the non-habitual resident tax regime. Foreigners in qualified professions who aim to relocate their tax residence to Portugal can benefit from this program, which offers significant tax savings.
Real Estate Taxes
Local Taxes on an Annual Basis
The annual tax rate that you should pay as a property owner in Portugal is known as the Imposto Municipal Sobre Imóveis (IMI). Depending on the property type, age, and location, the IMI tax rate ranges from 0.3 percent to 0.8 percent.
Rental Property Taxes
Rental income from a Portuguese home is always taxable in Portugal, regardless of where you live. The flax tax rate on net rental income is 28 percent.
This tax amount can be reduced by deducting maintenance, repair charges, and IMI. If you decide to rent out your property to tourists on a short-term basis, your rental income taxes may be different.
Portugal Golden Visa 2022 Changes
There were some changes in Portugal's Golden visa on January 1, 2022. Here are the key takeaways:
No More Residential Area Investment Along The Coast
When seeking a Golden visa from Portugal, many applicants prefer Lisbon and Porto, or the beachside regions of the Algarve and Silver Coast. With the changes, only commercial properties in these spots qualify.
Increased Minimum Investments 
Before 2022, the Portugal Golden visa required the applicants to transfer a minimum of €1 million for five years for the capital transfer option. This amount is €1.5 million as of 2022. For the investment fund option, the amount was raised to €500,000 from €350,000.
How Will The Changes Affect Future Applicants?
People who applied before 2022 need not worry about the changes at all. The changes might have an effect on future applicants but thanks to what Portugal offers, the program is still popular and highly favored.
History of the Portugal Golden Visa
By the end of 2008, Portugal was in a tough spot. Until 2007, the government steadily raised taxes while investing heavily in non-tradeable (service) goods from other nations. It was part of the economic push to improve the quality of life for middle-class workers and retirees.
Additionally, many sectors failed to allocate the financial resources properly, which meant that there were no reserves when the overseas trade fell, bringing a 10% deficit to the Portuguese economy, the same as was in the USA during the Great Depression.
To make a substantial flow of capital in the country, Portugal enticed foreign nationals with a program to grant them citizenship if they chose to invest in Portugal's economy. The government termed it the Portugal Golden Visa. The proposal received overwhelming support from both parties and was eventually passed in 2012 by the conservative party in power.
The visa saw a steady rise in applicants over the next few years. Still, it wasn't until the current socialist regime took power in 2016 and introduced certain amendments that made it more lucrative. For example, the residence permit used to remain valid for one year, incurring double the cost to renew as compared to today.
The program has seen massive success, with more than 10,000 non-EU nationals investing billions of Euros in the country's development. Most applicants belong to China, followed by Brazil, Turkey, South Africa, and Russia. Other EU members saw the program's success and took some inspiration. Today, you can get Golden visas for countries like Austria, Switzerland, Greece, Malta, and Spain.
Frequently Asked Questions
What is Golden Visa Portugal?
It is a residence-by-investment program offered by the Portuguese government to non-EU, non-EEA, and non-Swiss people who are ready to invest in Portugal. It is an investment immigration scheme that brings capital into the Portuguese economy from overseas investors.
What are the benefits of Golden Visa?
Visa-free travel between Schengen countries, the right to live and work in Portugal, the ability to include each qualifying family member in the residence program, and the possibility of applying for Portuguese citizenship after holding your Golden Visa for at least five years are all benefits of the Portugal Golden Visa.
Who benefits from my Portugal Golden Visa in my family?
Through family reunification, your spouse, minor children, dependent children, and dependent parents can acquire a Golden Visa.
Is it possible for me to take out a loan to fund my Portugal Golden Visa investment?
Portugal requires you to bring the required investment amount into the country. A bank in Portugal will not lend you that amount. However, you're free to get a loan from a bank outside Portugal and bring the funds into the country.