Portugal Golden Visa Program
The Portugal Golden Visa Program provides unique opportunities for investors who are seeking a good investment opportunity abroad or an alternative place to settle. You can obtain a residence permit by making a real estate investment in Europe's fastest growing market, Portugal.
What is Portugal Golden Visa?
The Portugal Golden Visa Program came into force in 2012. The program was designed to attract high net worth individuals and revive the real estate market in Portugal. Portugal Golden Visa Program requires a minimum of € 500.000 real estate investment. The investors should spend at least 7 days a year in Portugal to maintain their residence permit and benefit from the privileges of being a Portuguese resident.
Portugal Golden Visa Eligibility Criteria
Non-EU citizens may apply to Portugal Golden Visa program by investing in one of the many investment options
Capital transfer of € 1,000,000,
Purchase of a property for at least € 500,000
Purchase of real estate in urban regeneration areas for at least € 350,000
Donation of € 250.000 to institutions or artistic institutions related to natural cultural heritage,
Establishment of a company that will create job positions for 10 people
R & D investment of € 350.000
Free Movement within the Schengen Area
Portugal Golden Visa Program offers a unique opportunity for investors who want to increase their standard of living and guarantee a secure future. The investors are allowed to include their spouse and children under the age of 18 into the program. Invest in the future of your children while generating a high return on investment in real estate. Golden Visa holders have the right to travel within the Schengen Area without a visa. Become a resident of one of the safest countries in Europe and enjoy the advantages of international education opportunities.
Real Estate Investment and Portuguese Citizenship
After making a real estate investment in Portugal, investors may choose to benefit from rental income as well as settle in the property they have purchased. Real estate investment in Portugal will present you many rewarding options. Whether you are seeking to settle in Portugal or benefit from the rental income, our experienced team will provide you with the best solutions regarding your investment criteria. Investors have the right to apply for Portuguese citizenship after the 5th year of legal residence in Portugal.
Frequently Asked Questions
What Are the Investment Types for Portugal Golden Visa?
1- Capital transfer of at least 1.000.000 Euro,
2- Purchase of real estate located in urban regeneration areas worth at least 350.000 Euro or purchase of real estate worth at least 500.000 Euro of any kind,
3- It is necessary to grant 250.000 EURO to the institutions or artistic institutions related to natural cultural heritage.
4- Business to create employment for 10 people
5- 350.000 Euro R & D investment
6- EUR 500,000 venture capital investment
In Portugal, real estate investment is the most preferred option among the applicants. Therefore, the most popular option is the € 500.000 worth real estate option. This could be a house to live in, a real estate to rent, or a hotel on the mainland or even on an island. Our real estate consultants and experienced lawyers will assist you in this matter.
I Want to Get Residence Permit from Portugal through Real Estate Investment. Where Should I Invest?
This is the most vulnerable issue of abuse. Sellers of property can price property values ​​above market values ​​for buyers from abroad. For example, they can increase a place worth 400,000 Euros to 500,000 Euros and make it suitable for the session. Although it is possible to obtain a residence permit in this way, it is necessary to pay the unnecessary high fee. Although prices have fallen in Portugal due to the crisis, we are searching for alternative places on your behalf and creating a portfolio based on real market values.
How Long is the Portugal Golden Visa Processing Time?
Once you've decided where to buy and the purchase is over, we'll complete your permanent residence application for all family members in about a week and your process begins.
What Are the Documents Required for a Residence Permit in Portugal?
A valid passport

Evidence that you are legally present in Portugal (visa, entry stamps, etc.).
Required documents that you are covered by the Portuguese public health system or that you have private health insurance to cover your residence in Portugal.
Record your judicial record translated into Portuguese
Sworn declaration stating that it will adhere to minimum investment requirements.
Documents that you do not have any outstanding taxes in Portugal.
A receipt showing that you have already paid the application processing fee.
Can My Family Benefit from the Golden Visa Program in Portugal?
The investor's spouse and children under the age of 18 can benefit from Portugal Golden Visa
How is the Portugal Golden Visa Renewal Process?
Investors obtain a temporary residence permit for a total of  five-years to be renewed at the end of the first, third and fifth years.
In the first year, the obligation is to spend at least 7 days in the country. Until the end of the third year, the investors have to spend 14 days in total. Another 14 days during in fourth and fifth years are expected.
At the end of five years, there are two options that the investor can apply.
The first is to obtain permanent residence permit, provided that they spend half of the year in Portugal.
The second is to apply for the additional two-year residency to spend a total of 14 days in Portugal and to pass citizenship after passing a Portuguese language exam after a total of six years.
Does Portugal Golden Visa Allow Visa-Free Travel in the Schengen Area?
Yes, Portugal Golden Visa holders have the right to travel without a visa among the  Schengen countries.
Can We Adapt to the Education System in Portugal?
No matter how old your children are, you can find  international schools in Portugal with an high quality education. There are English, American, German and French schools in Lisbon. In American and British schools, all courses are in taught in English. Since diplomats and expat children are often trained in these international schools, your children will have schoolmates from all over the world.  We can also provide more detailed information upon your request.
Does Paladin Manage the Golden Visa Process for Me?
We follow all these services on your behalf and keep you informed. Whether you consider it as an investment or a full relocation, we complete all process for you. Please contact us for details.
Is it Possible to Get Portuguese Citizenship through Golden Visa Program?
Portugal Golden Visa holders are eligible to apply for Portuguese citizenship after a 5-years of legal residence in the country.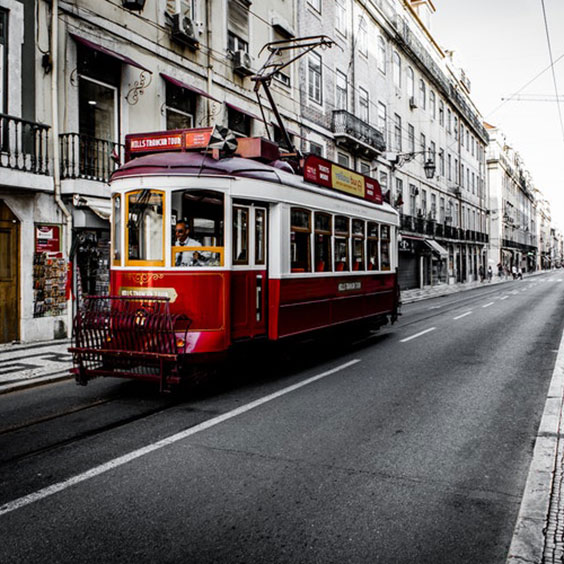 Invest in Portugal, the fastest developing market in Europe! Whether you want to get a residence permit or make a profitable real estate investment, Paladin will guide you though every step of this adventure!
Please Fill out the form to get more information about Portuguese Citizenship, Portugal Golden Visa, Real Estate Investment and Residence Permit.
The Portugal Golden Visa Program allows non-EU citizen to obtain permanent residence in Portugal for a substantial amount of investment which is to be maintained for at least 5 years. More than 6500 residence permits were issued through Portugal Golden Visa program. Non-EU citizens over the age of 18 are eligible to apply for Portugal Golden Visa program. Following a successful application, the investors receive one-year temporary residence permit in Portugal. After the first year of residence, the investor should start the renewal process. With the renewal application, the permit extends for 2 years. At the end of the third year of residence, the renewal process is repeated and the permit is extended again for another 2 years. When the investor completes a total of five years of residence in Portugal, they become entitled to receive a permanent residence permit. Portugal Golden Visa offers quick and easy route to obtain European citizenship. Portugal Golden Visa holders can apply for citizenship after completing a five-year of legal residence. Many other European countries expect the approximately ten years of residence to apply for naturalization. In addition, the required residence period for Portuguese Golden Visa holders is only seven days.
The Portugal Golden Visa Program is very advantageous in offering investors a high standard of life in Europe. Investors can live with the same privileges as a Portuguese citizen with a residence permit from Portugal. Portugal's deep-rooted history and friendly society make this Mediterranean country a privileged place for many investors. In recent years, the demand from foreign investors to Portugal's real estate market has increased enormously. Portugal's advantageous taxation on foreign investors and stability in Portugal's economy are just a few of the reasons behind this success. While many European countries are currently facing economic recession, the stability of the Portuguese economy attracts many investors to Portugal.
Lisbon, in particular, has become a favorite for big multinational technology companies. Portugal's capital is undergoing a major transformation. Lisbon is getting stronger in terms of invesment and develops every year. This trend among foreign investors can be observed very easily. Interest from investors all around the world in the luxury real estate sector in Portugal is growing . So much so that Portugal continues to find new ways to meet great interest. Renovation and real estate development continue at full speed in Portugal. Developments in Portugal are being followed with interest by the whole world. With the residence permit you will get in Portugal, you can make big profits in the long term. The friendly Portuguese people and developing Portuguese economy gives confidence to many investors. Mostly Chinese, Brazilian and Turkish investors are applying for Golden Visa programs. Two major sectors are of great importance in Portuguese economy. One of them is tourism and the other is real estate. A rising interest by foreign investors to the Portuguese real estate sector is observed lately. In addition, tourism has always been a strong aspect of Portugal. The attention paid to touristic places and historical values reinforces Portugal's success in tourism.
It is a wise choice to take your place in Portugal's increasingly valued real estate market and apply for the Golden Visa program. Because the Golden Visa program offers investors both a permanent residence permit in Portugal and an opportunity to invest in a very profitable real estate market. Applicants who intent to make real estate investment should work with a professional. It is important to choose the most suitable real estate according to investor's needs. Individuals need to get support from consultants with local expertise. It is very critical to obtain accurate information and an in-depth investigation should be carried out. Portugal offers many opportunities to individuals who want to make a real estate investment. The foreign population living in Portugal has increased greatly in recent years. Portugal is known as one of the most preferred countries for living as a foreigner. As a result, Portuguese society has embraced foreign cultures and high living standards have increased Portugal's popularity. Portugal has a long history. Lisbon is one of the oldest cities in Europe. The Portuguese authorities take great care of the historical texture. Therefore, Portugal will always maintain its historical importance and value. Investors applying to Golden Visa programs will also become a part of Portuguese culture.
Portugal Golden Visa Investment Requirements
Portugal started its own Golden Visa Program in 2012 and since then, it has been a massive success. Widely recognized as the most attractive residence by investment program throughout Europe, Portugal Golden Visa Program offers great advantages to investors around the world. Beside its perks, it also allows investors to follow several different paths regarding their own interests. It adds to the program's versatility and overall attraction. For instance, if an investor wants to try their chance in secure government funds with rather minimal fluctuation, they might choose the related option. If an investor is interested in higher returns, they might take their chances by investing in a popular real estate area using one of many options provided by Portugal Golden Visa Program. It allows investors to have a wide spectrum of options among which they can choose the best option for their business activities or their families' interests.
Real Estate Investment Option
The first and most popular investment option among all is the real estate investment option. A big majority of investors choose this option as their route to Portuguese residency. This is mostly because Portugal's stable economy and property market. Performing consistent growth over the years, Portugal real estate sector understandably attracts interest from investors. Another reason as to why this option is popular is its versatility within itself. To be clearer, this option traditionally requires €500,000 worth of investment in Portuguese real estate. However, it allows applicants to do a joint investment. Furthermore, if the investment is made in a designated "low-density area", the applicant gets a 20 percent discount over the total investment which means that the new minimum investment requirement becomes €400,000. Also, Portugal Golden Visa Program has other designated real estates which are marked as rehabilitation and restoration options. If the investor chooses to invest in these options, minimum investment requirement further decreases to €350,000. If the property in need of restoration or rehabilitation is in one of the designated low density areas, the previous discount applies and the investment requirement becomes €280,000.
Money Transfer Option
This is another option which involves several routes within itself. However, in this method, minimum investment requirement is always €1 million. a. Investors may choose to invest via a bank deposit. b. Investors may choose to acquire shares in a Portuguese company or incorporate a single-member private limited company free to channel its investment anywhere. c. Investors may choose to acquire Portugal's sovereign debt instruments; d. Investors may choose to acquire Portugal's traded securities.