Greece Golden Visa Program
The recent developments and stable growth in Greece's economy provides a reliable investment environment. Greece Golden Visa, a privileged residency by investment program, attracts many investor worldwide.
What is Greece Golden Visa?
The Greece Golden Visa Program was introduced in 2013. The program offers residence permit to individuals who make real estate investment. The investors have the right to include their spouse and children under the age of 21, so that they can also benefit from the residence permit as well. The program is considered as one of the most flexible Golden Visa programs. There isn't any residence requirement for the program, and the residence permit is issued for 5 years to be renewed indefinitely.
In Greece, the residence permit is issued by official Greek authorities and the residence permit allows the applicant to legally reside in the country. A minimum of € 250,000 real estate investment is sufficient to apply for the Greece Golden Visa.
Greece Golden Visa Eligibility Criteria
Non-EU citizens may apply to Greece Golden Visa Program. The investment options are as following:
Purchase of a property for at least € 250,000,
10 years of rental agreement for hotel accommodations,
Purchase of bonds for at least € 800,000, to be kept for at least 5 years
Purchase of bonds or shares of real estate companies for at least€ 400,000, to be kept for at least 3 years
€400,000 investment in bank deposits
Live in Greece with Your Family
Greece Golden Visa allows individuals and families (investor's spouse and children under the age of 18) to obtain a Greek residence permit. The residence permit is issued for 5 years and the applicants can renew it indefinitely. The rich culture and pleasurable climate of Greece offers unique opportunities for its residents.
Benefit of Greece Golden Visa
Greece Golden Visa Program is flexible, affordable and simple compared to the other programs. After a real estate investment of € 250,000, investors receive a 5-year residence permit. Golden Visa holders can benefit from the health care and education systems. Moreover, the individuals and families can pursue to a safe life at European standards.
Visa Free Travel in Europe
Golden Visa offers a very advantageous route for investors who want to increase their global mobility. Greek permanent residence permit enables individuals to travel within the Schengen Area without a visa.
Frequently Asked Questions
What Is The Most Affordable Option for Greece Golden Visa?
Although the most suitable investment option may change according to the desires and preferences of the investor, the most preferred and generally the most affordable method is to purchase a house worth at least € 250,000.
Is it Possible to Get Greek Citizenship through Golden Visa Program?
It is possible to get second citizenship in Greece after having a Golden Visa, but the Golden Visa Program does not offer an easier route to naturalisation. Individuals have to be a legal resident of Greece for at least 7 years.
Do I have to make the € 250,000 worth real estate investment on a single property?
No, investors may apply as individuals or legal entity as long as the total value of the investment adds up to €250,000
May I apply through joint ownership?
In the case of joint ownership, each of the partners has to invest at least € 250,000. The only exception to this situation is the ownership of a married couple. A joint purchase that gives you and your spouse the right to take over the whole property has to be at least € 250,000.
Does Greece Golden Visa Allow Visa-Free Travel in the Schengen Area?
Yes, Greece Golden Visa holders have the right to travel without a visa among the Schengen countries.
Greek Residence Permit Is Issued For How Many Years?
The residence permit obtained through Greece Golden Visa Program is valid for 5 years. At the end of the 5th year, the residence permit can be renewed unlimitedly for 5-year periods.
Does Paladin Manage the Golden Visa Process for Me?
We guide you through all the process and keep you informed with the recent developments. Whether you consider Golden Visa solely as an investment or full settlement, we complete the whole processes without any hassle. Please contact us for details.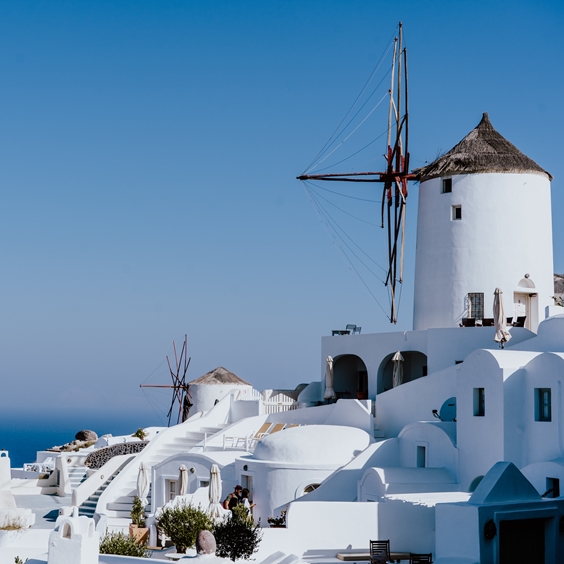 Invest in the steadily growing and developing Greece and explore the opportunities in Greece's progressive economy. Whether you want to get a residence permit or make a profitable real estate investment, Paladin is your guide through every step of this journey!
Please Fill out the form to get more information about Greece Golden Visa, Real Estate Investment and Residence Permit.
Greece Golden Visa application process is very easy and direct. First, the applicant must apply for an entry visa to the Greek consulate in his country. Then the investor needs to collect all the necessary documents for Golden Visa application. After that, all the prepared documents should be submitted to the relevant authorities. The applicant should submit all required documents before the expiry date of the entry visa. Finally, the applicant must use the entry visa to take legal action with the relevant authorities. While some countries allow only one property investment, Greece's Golden Visa Program enables investors the make multiple real estate investments as long as the total investment amount meets the minimum investment requirement. Therefore, it is possible to say that the program is quite provided that the investment requirements are met.
Greece With the Golden Visa program, investors can make a profitable investment in Greece's booming economy. Greece's residence permit program through investment attracts investors from many countries around the world. Investors who want to have permanent residence in Europe can invest in real estate. With the financial crisis that began in 2009, Greece seems to have left behind the old days. The Greek economy is getting stronger and the policies of the new government offer advantages for foreign investors. The government encourages investment in Greece by introducing tax cuts. When the statistical data are analyzed, it is observed that there is an increase in the investments made in Greece. With the recovery of Greek economy, it can be said that Greece can turn into an investment center. The Golden Visa program in Greece is considered by many authorities to be the best program of the all European residency by investment programs. Another strength of Greece is undoubtedly the tourism sector. Greece is recovering its economy with the success of the real estate and tourism sectors. Investors applying to Golden Visa are both purchasing a house and permanent residence permit in Greece. Greece Golden Visa program, attract many investors from the world, but mainly from China, Russia and Turkey. The most preferred investment type is real estate investment. At the same time, the program offers an affordable amount of investment compared to other residence permit programs. What are the requirements fors obtaining a permanent residence in Greece? The applicants of the Greece Golden Visa program mostly prefer the real estate investment option. The minimum investment requirement for real estate option is 500.000 Euros. In Greece, a residence permit is issued for five years and investors have unlimited renewal rights. One of the biggest advantages of the Greece Golden Visa program is that it requires the lowest amount of investment compared to other residency by investment programs in Europe. Thus, citizens of non-EU countries can obtain a residence permit in Europe for a relatively affordable investment. The advantages of Greek in real estate sector draws the attention of many international investors. After seeing the privileges of living in Greece, many foreign investors and tourists look into the residence permit program in more detail. The developments observed in Greece's economy make the country more attractive for sure. It is possible to say that the tourism sector is developing rapidly in Greece. Many tourists from all over the world visit Greece every year. Especially the Greek islands attract many tourists. The warm climate, unique nature and beaches make Greece an indispensable destination. For these reasons, many tourism investments are made in Greece. It is possible to find large hotels and touristic housing projects in Greece frequently. Candidates can apply for Golden Visa by investing in the tourism sector. Investing in tourism, which is one of the most powerful aspects of Greece, would be a very logical decision.
Greece Golden Visa Investment Requirements
Greece Golden Visa Program which was introduced late in 2013 as a helping hand to pull the country out of the financial crisis it had been involved in for 5 years by then. Since, the program has been one of the most successful schemes around the world. It allows permanent residency in an EU member state for as little as €250.000. The permit is permanent; however, it needs to be renewed every five years. Although the most popular option is the real estate investment option, the program has other methods, too.
1.Real Estate Investment Option
This option allows investors to obtain Greece real estate valued at least at €250.000 in exchange for Greece Golden Visa. This is the most popular option since the program's inception. It is mostly popular because of its financial attractiveness. If the applicants can find a profitable opportunity in a central area, the chances of getting high returns and profits for a long period of time are very high. Also vitalizing the real estate sector of Greece after years of stagnancy and bringing back the popular areas' dynamism, real estate investment of Greece Golden Visa Program is one of the most popular methods of obtaining a EU member state residence permit currently.
2.Tourism Investment Option
Greece Golden Visa Program provides investors who are interested in using this method with numerous accredited institutions or tourist resorts which are integrated into the program. This option of Greece Golden Visa Program requires investors to sign a minimum of 10 years of lease agreement for hotel accommodations or mentioned tourist residences.
3.Government Bonds Option
Another option of Greece Golden Visa Program allows investors to invest in Greek government bonds and requires them to keep their investments for at least five years. Minimum investment requirement for this option is €800,000. Although this option was targeted by some doubt due to the country's financial standing in the previous years, it is projected to gain popularity over the years, because Greece's economy shows every sign of recovery and progress towards steady growth.
4.Company Share Option
Investors may choose to invest in real estate company shares or bonds as a route to Greece permanent residency. This option requires investors to hold their investments for at least three years and the amount of minimum investment required is €400,000.
5.Bank Deposit Option
Finally, investors may choose to fulfil their investments Greek banks by depositing at least €400,000 in Greek banks.